Bi Folding Doors vs Sliding Doors
Bi folding and sliding doors are both popular choices among many modern-day homeowners. They are an ideal way to maximise the natural light inside your home with their large expanses of glass and sleek, narrow aluminium frames. Not only this, but they allow for a seamless transition between the inside and out, giving you the ability to open entire walls of your home!
But what are the differences between bi folding and sliding doors? We have put together this helpful guide explaining the different benefits of each so that you can choose the right style of door for your home.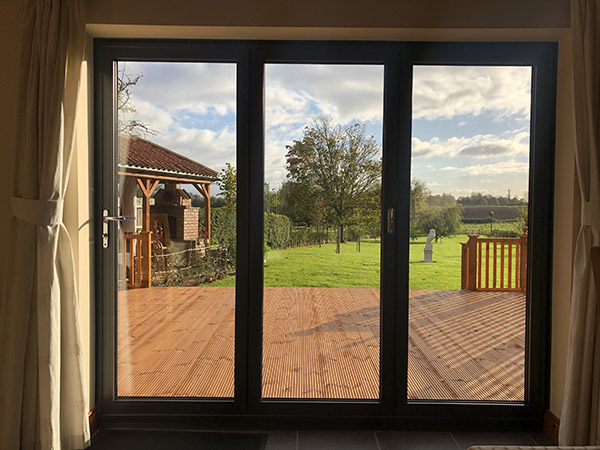 Space-saving solutions
While bi folding doors fold back elegantly to one side with the option of opening them outwards or inwards. If space is a priority then sliding doors might be a better choice for you. Since you are able to stack them neatly into one another rather than opening outwards either into your home or garden.
Ease of access
Sliding doors inherently give you more flexibility in terms of different opening options. For example, if you wanted to open the door just a little to let some fresh air in or to let the dog out into the garden, you can slide the door back a few inches rather than opening the whole wall of your home. However, bi folding doors come with the option of having a traffic door which can offer similar benefits. A traffic door operates independently from the panels, opening and closing like a regular door. Allowing you to access the garden quickly without sliding back all the panels.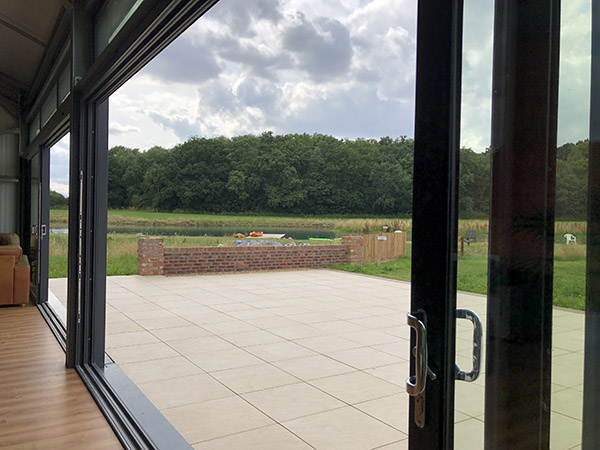 Soak up the view
Both sliding doors and bi folding doors are a great choice for anyone who would like to maximise their views and bring in large amounts of light into their home. If you are looking for unrestricted views of your outdoor space bi folds might be what you need. When open they provide a real wow factor, removing entire walls of your home, perfect for outdoor entertaining! Alternatively, sliding doors may arguably look better when closed as they have a larger glass area in proportion to the frame giving you a less restricted view of the outdoors.
Sustainable and energy-efficient
In the past, slimline doors were considered to have poor thermal insulation however due to technical innovation both our double glazed bi folding and sliding doors are highly thermally efficient. Keeping your home naturally warmer all year round and saving you money on energy bills! There is not a large amount of difference between the efficiency of bi folding and sliding doors, although sliding doors may be slightly more efficient due to a larger glass-to-frame ratio.
In addition to being energy efficient, both of our aluminium door options are sustainable and popular choices for modern homeowners. Not only do they have an extremely long life span but require very little energy in maintenance and guarantee 100% recyclability at the end of a building's life!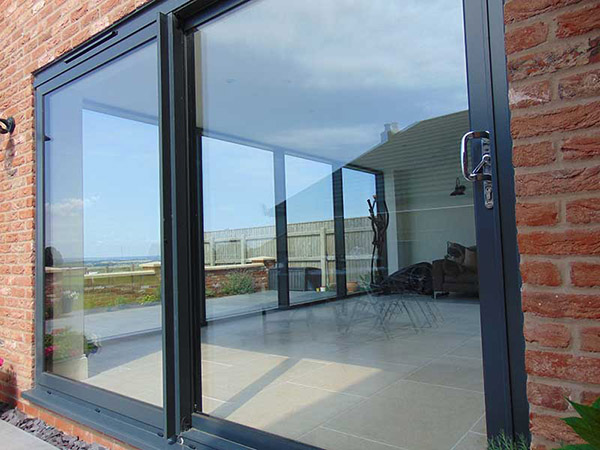 Safe and secure
Both our sliding doors and bi fold doors are highly secure. They are inherently strong and durable given that they are constructed using aluminium. In addition to this we offer a range of enhanced security measures to ensure your peace of mind; including a multi-point locking system, tested to the industry security standard PAS24 and accredited to the police's Secured By Design scheme. In addition to this, we use gaskets to prevent fingers from getting trapped when opening and closing the doors. An ideal choice for homes with small children!
Is there a difference in price?
Both bi folding doors and sliding doors are very similar in terms of cost. This is more dependent on the area of glass that you require since this is the biggest factor when it comes to determining the price of your door.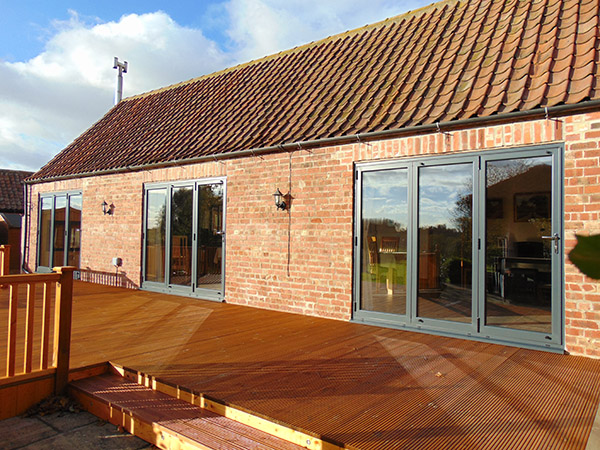 How can I get in touch about bi folding or sliding doors?
Ultimately, your choice between sliding and bi folding is dependent on the style and layout of your home, as well as your outdoor space and the way you plan to use it. Our friendly and experienced team will be happy to discuss which option might be right for you. Contact them on 01522 541294 or click here today for your free no obligations quote.
At Jackson Windows we have been helping customers create their dream homes for 25 years. We are local, reliable, and trusted- find out how much our customers agree here. We are FENSA registered and serve in Lincoln and surrounding areas including Newark-on-Trent, Worksop, Doncaster, Horncastle, Louth, Sleaford, and Grantham.