5 Most Popular 2022 Home Improvement Trends
Over the past year, many of us have embraced a new lifestyle that involves spending more time in our homes. This has resulted in increased consideration about how we design and decorate our spaces in order to create a calming place that has a positive impact on both our physical and mental well-being.
Our experienced designers have highlighted five most popular home improvement trends right now to help you achieve the home of your dreams.
1. Kitchen the Entertainment Mecca
One of the best ways to boost your mood and well-being is by increasing the natural light inside your home. Large expanses of glass, achieved by aluminium bifolding or sliding doors with slim sightlines, will allow you to enjoy uninterrupted views across your garden all year round.
They help to create a versatile space to relax and spend time with loved ones. You can open up entire walls of your home, perfect for alfresco dining and entertaining during warmer months. Alternatively, during colder months bifolding doors include a traffic door, which aids ease of access in and out of your home without opening up the whole section.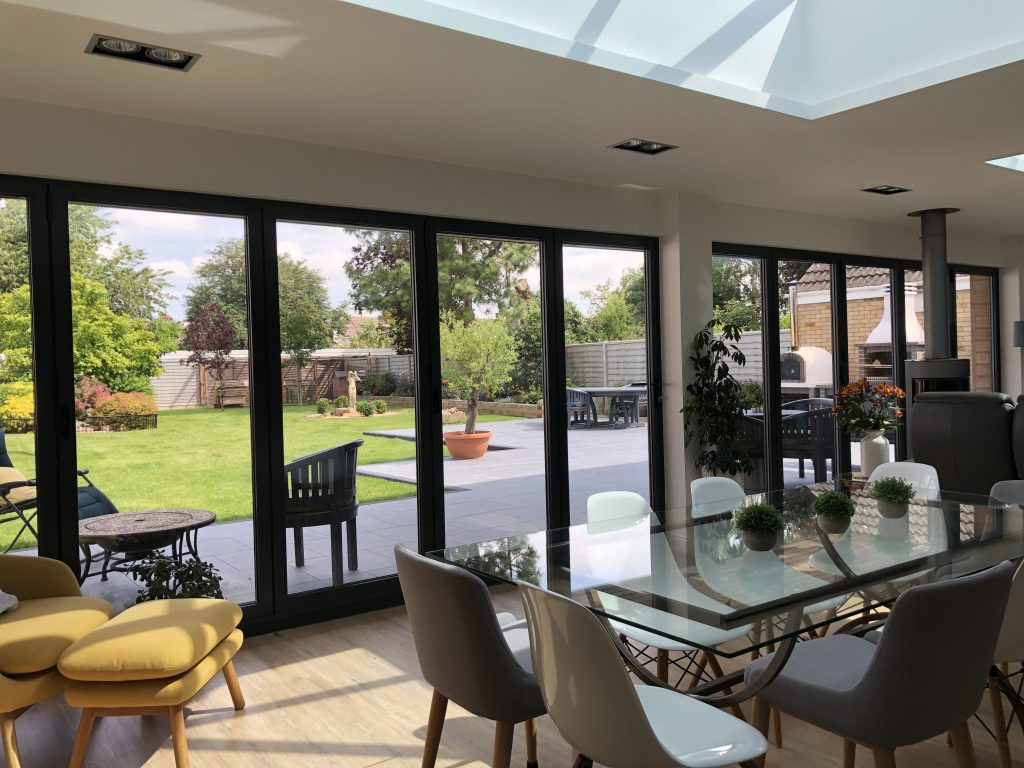 Bifolding and sliding doors offer an elegant and contemporary solution to your living space. Not only does the discreet hardware look aesthetically appealing but their insulating and energy efficient properties mean that your space will stay warm and cosy throughout the year. It is no surprise that we have seen such an increase in popularity of these doors in recent months.
2. Country Living
Due to increased emphasis on slowing down and 'slow living' many homeowners have embraced a country living or Cottagcore theme that involves designs inspired by rural aesthetics, with a focus on comfort and simplicity. Soft green hues, beiges and shades of grey are increasingly popular combined with sleek designs perfectly tailored to any type of property.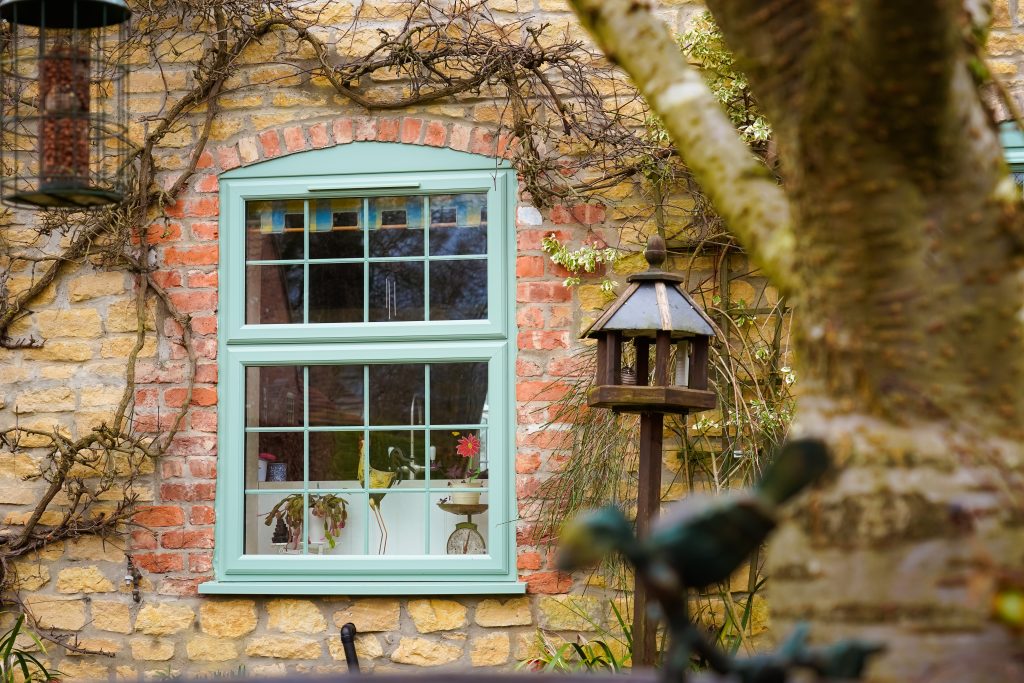 Embracing your properties traditional features is another great way to create a Cottagecore country theme. Bow and bay windows are not only an amazing way to bring in ample light and additional space to your home but are a visually stunning classic feature. Another popular style is the vertical sliding window which combines the benefits of high-performance modern technology with traditional charm and character.
To further enhance the character of your home consider a range of hardware options. From Gold, Chrome, Bronze, Antique Black to Satin depending on your desired finish and personal style.
3. Sustainable Home
Climate change is something on everyone's mind, now more than ever. Therefore, it is important that we consider how we can reduce our impact on the environment.
When making improvements to our homes we all now think about which options are most sustainable. Choosing highly energy efficient doors and windows allows you to create a home that naturally regulates temperature, staying warm during the winter and cool during the summer. Quality double and triple glazing includes layers of glass filled with argon gas that works to efficiently insulate your home. Not only saving you money on energy bills but also helping reduce your carbon footprint in the long term.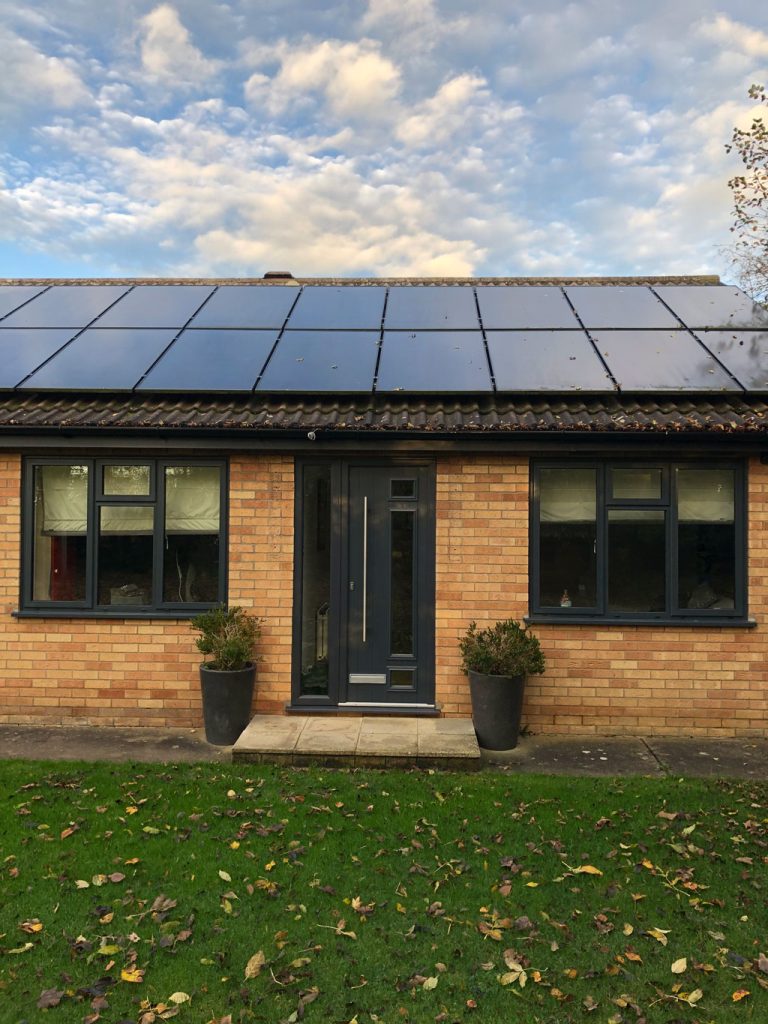 It is also important to consider the materials you choose for your home improvement project. In recent months there has been a rise in the use of aluminium which is incredibly durable and long-lasting. Even at the end of its life, aluminium is 100% recyclable, making it a highly sustainable choice.
4. Extended Spaces
There are a variety of ways to extend and expand your home. One of the best ways to add space to your home is by adding or updating your existing conservatory to create somewhere that is comfortable all year round. 
There are a range of roof options available, from glass roofs with modern technology which will create a bright and welcoming room, with greater temperature control and reduced noise from the outdoors. Or, you could opt for a tiled conservatory roof to blend your extension more seamlessly with your home and reduce glare from the outdoors. In addition to this, you could extend your conservatory space further by adding French or bifolding doors to bring the outside in.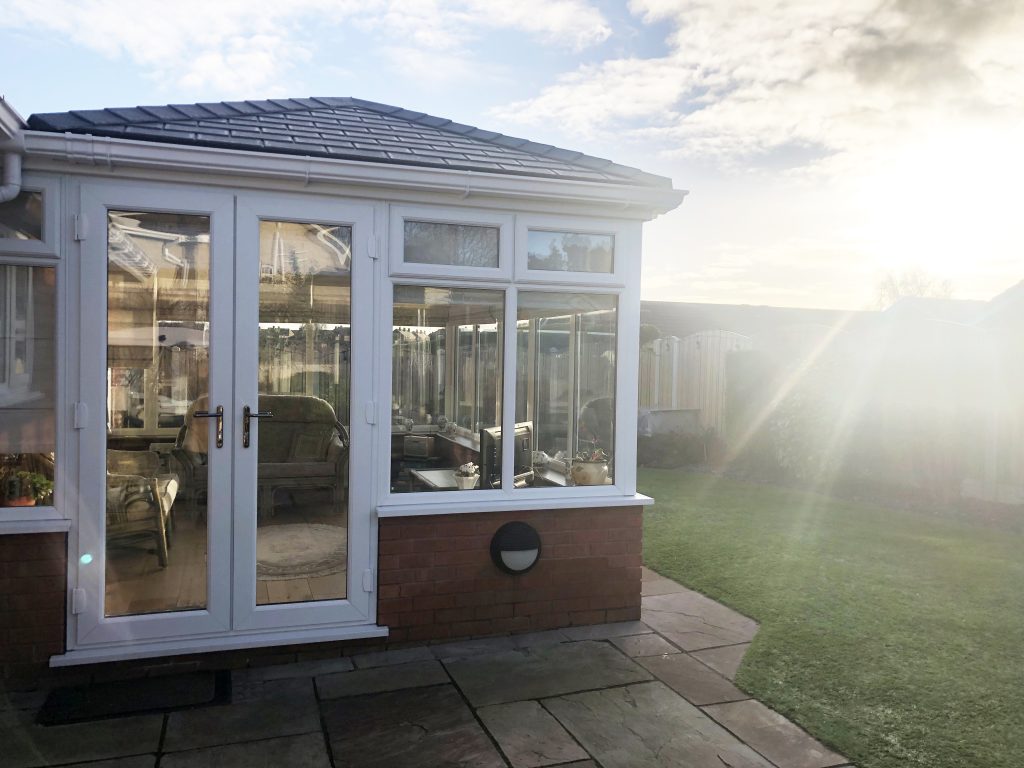 Roof lanterns are an alternative option that is becoming an increasingly popular choice since they are a great way to enhance natural light and add volume, height to your home. Many people opt for roof lanterns when adding orangeries to their home, tailoring the size, style and glass options to suit their space.
In recent months we have noticed an increased emphasis on space, clean lines and minimal decorative detailing. A great way to achieve this finish is through the addition of integral blinds which fit perfectly inside your window, meaning that they won't get damaged and will never need cleaning!
5. Entrance Doors with Bespoke Glazed Sections
Bespoke glazing options are the ideal way to add some personality to your home. From the modern, sleek four-square design to more traditional farmhouse and cottage options there are a range of design options available to suit any style of property.
In addition to this you can customise your glass by choosing from a range of textured glass options which will allow you to maintain privacy within your home whilst still allowing in maximum light. For doors with larger openings, we offer a range of sidelight options to perfectly complement your door and again bring in additional light.
You can choose from a wide range of internal and external colours and finishes to suit your own personal style. Try our composite door designer tool here to discover the wide range of options available to you!
How Can I Get Started on My Project?
Here at Jackson Windows we have been helping customers create their perfect homes for over 25 years. We are FENSA registered and serve in Lincoln and surrounding areas including Newark-on-Trent, Southwell, Worksop, Doncaster, Scunthorpe, Louth, Sleaford, and Grantham.
We are local, reliable and trusted, and have an outstanding rating from our customers. You can read what our customers say about us here.
For a free, no-obligation estimate simply start your online quote below or you can call us on 01522 541294 and one of our friendly advisors will be happy to help you with your options. While our showroom is currently closed, our team of specialists are available to ready to help you, wherever in your home improvement journey you are.