How To Choose the Right Front Door for Your Home
One of the best ways to make a good first impression of your home is with a statement entrance. Not only can a new front door create vast amounts of kerb appeal, but it also provides a range of additional benefits to make your home more secure, quieter and more energy efficient.
With such a wide range of options from uPVC, timber, composite, to aluminium, it can be difficult to decide which one is right for your home. That's why we've put together this helpful information with useful tips to explain the different ways in which each material can benefit your home.
What are the benefits of uPVC doors?
In recent years, uPVC has been a popular choice amongst homeowners. Developments in technology have allowed us to create cost-effective and high-performance doors. In addition to this, uPVC is naturally weatherproof and looks great all year round.
It is very low-maintenance, easily cleaned with a simple wipe down. Far from being simply functional, uPVC doors are now available in a variety of colours and finishes, including woodgrain for a timber effect.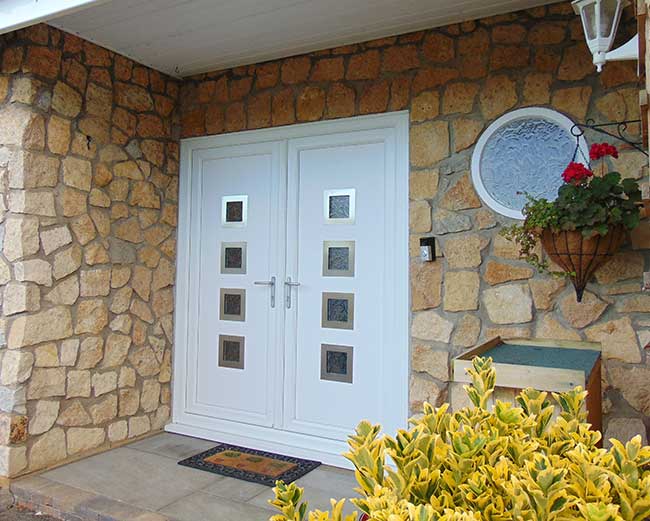 What are the benefits of timber doors?
Timber doors are a good option for homeowners looking for a classic and traditional style, they are naturally insulating and can absorb and retain heat. Many people like the grain effect that comes with timber doors.
However, they do require some amount of upkeep, including painting or staining, to keep them looking their best. It is also important to select the right door to avoid warping and expansion which may compromise the shape, in turn affecting how your door will open and close.
What are the benefits of composite doors?
Composite doors are highly durable, strong, weather-resistant and very secure. This is because they are created by pressing and gluing a number of materials together at high pressure. They have a high-density foam core which creates excellent thermal performance and energy efficiency. This of course helps you save money on your energy bills but also helps preserve precious energy and helps protect our planet.
The surface of composite doors is covered with a glass-reinforced plastic skin, same material that is used to make the hull of boats! Once installed, you won't have to worry about replacing composite doors for many years.
Our composite doors are customisable with a range of traditional and contemporary styles and glass options, in many colour choices for both the exterior and interior. Try our composite door designer to discover all the options available through Jackson Windows and design your bespoke door today.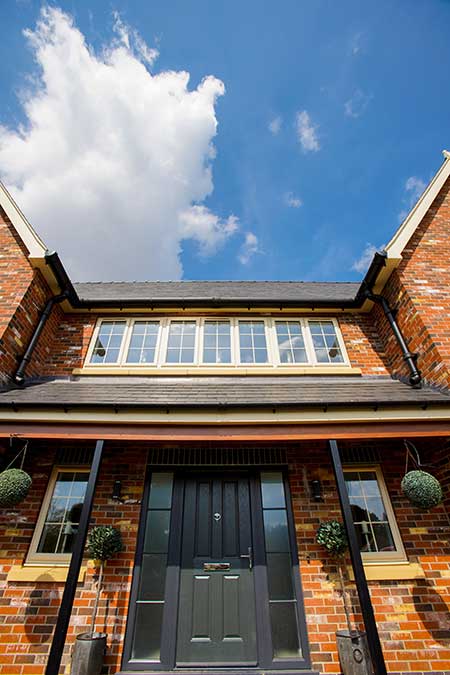 What are the benefits of aluminium doors?
Aluminium is another great choice of material for your front door due to its inherently strong and weather-resistant nature. Aluminium doors are extremely low maintenance with no risk of warping or changing shape. In addition to this, they are rustproof and only require a simple wipe down occasionally, to maintain a high quality finish.
Aluminium doors have outstanding thermal insulation qualities which makes them a great product if you are looking for an entrance door from a sustainable material that is going to last for decades. Even at the end of its ultra long life, aluminium door can be 100% recycled. Aluminium is in fact one of the most environmentally-friendly metals, which is why it's often referred to as the 'green metal'.
Another benefit of choosing aluminium for your new front door is virtually unlimited range of design styles you have with this type of a door. At Jackson Windows we offer many colour and furniture options to create a sleek finish that complements your property character, be it a contemporary or a traditional home.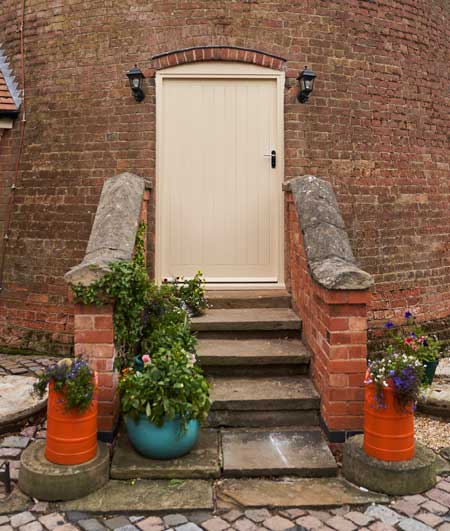 How can I get help choosing a new front door today?
A poorly designed entrance door made from cheap materials can leave your home exposed to the weather and outside threats. We work with reputable suppliers and quality materials to ensure we offer the best entrance doors that look great and are also made to last.
Check out our website for more information on entrance doors, start your free no-obligations quote online today. Or get in touch with our friendly, experienced team on 01522 541294 who will be happy to show you the many beautiful entrance door designs we offer.
At Jackson Windows we have been helping customers create their perfect homes for over 25 years. We are FENSA registered and serve in Lincoln and surrounding areas including Newark-on-Trent, Worksop, Doncaster, Horncastle, Louth, Sleaford, and Grantham.
We are local, reliable and trusted, and have an outstanding rating from our customers. You can read what our customers say about us here.