What are bi fold doors?
Bi fold doors can be also called concertina doors or folding doors. These doors have several panels that fold together and slide off to the side, offering an unobstructed clear opening into your garden. They typically have a traffic door that allows easy access to the outside without opening the whole section.
The beautiful panoramic views you will achieve with these doors are unrivaled by any other type of door. They offer an impressive yet effortless way to open up your home and simply let the outside in while keeping the weather out. Aluminium slim frames give more glass and more natural light. The hardware is subtle in appearance so only the hinge knuckles and handles show.
We work with a global leader in design and engineering of aluminium windows and doors, ALuK, who supply our aluminium profiles. Secure and robust, ALuK systems have been designed to meet and exceed requirements, while a complete range of accessories, design options and configurations offers unrivaled flexibility in terms of aesthetics and functionality.
What are the benefits of bi fold doors?
Customers typically choose to have folding doors installed due to their aesthetic appeal and the extra light these doors let inside. These doors provide a stunning transition between the indoors and outdoors while adding an impressive feature to your home. They completely transform the room and make it appear much larger, lighter and airier.
Unlike patio doors or sliding doors, bi fold doors open all the way and therefore allow you to maximise your living space. Elegant and contemporary, they will instantly transform the feel of your house, while providing superior security, safety, and energy efficiency.
Bi fold doors can be installed inside or outside your home, as an entrance to your garden or your conservatory. They can also provide a great way to split a larger room without losing out on space.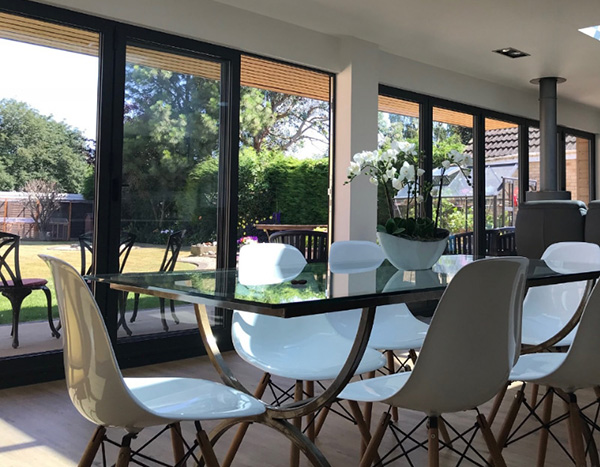 What options are available to me?
Bi fold doors have various opening configurations. For example, you can have the traffic door at one end or in the middle. Some customers choose to have a double door in the middle. Your traffic doors can open inside or out, to suit the layout of your living space.

You can order your doors in any RAL colour so it complements the style of your property and the colour of your window or conservatory frames. We can provide your door in single colours (both sides the same colour) or in dual colours (different internal and external colours).
Will bi fold doors add value to my property?
Whether or not will bi fold doors add value to your home depends on various factors. A concertina door certainly adds appeal and will modernise your home. According to recent surveys, installing these doors is likely to increase the value of your home. This, of course, depends on many factors, including the location of your property.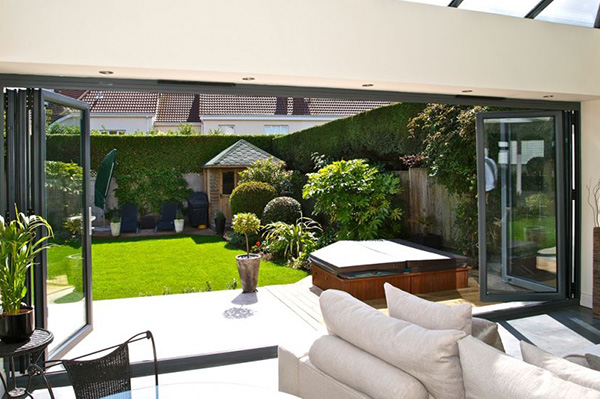 How secure are bi fold doors?
Customers are naturally concerned about the security of any external doors. The security of this type of door is typically very high. How high depends on the manufacturing and installation process.

At Jackson Windows, we manufacture all doors in our Lincoln-based factory. As such, we can ensure the very high manufacturing standards of all of our products. All our doors come with a 5-point locking system and reinforced hardware that has been tested against break-ins. Our doors only have internal beading and can come with reinforced laminated glass for extra security. All our doors are double-glazed as standard and we offer triple-glazing for customers who wish to further increase the thermal and acoustic performance of their doors.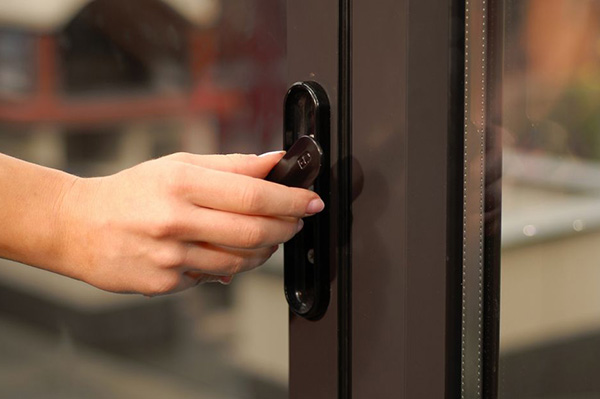 How long will my door last?
All our folding doors come with a 10-year guarantee. However, with the right maintenance, and of course depending on how frequently your door is used, our doors can often last around 25 years.
Who can I talk to to help me with my choices?
Here at Jackson Windows, we have been helping our customers create their perfect homes for more than 25 years. We make all our bi fold doors locally in our Lincoln-based factory and only use experienced and qualified fitters to install them.

FENSA registered, we serve Lincoln and the surrounding areas, including Newark-on-Trent, Worksop, Doncaster, Scunthorpe, Louth, Sleaford, and Grantham. We work with you and help you along the way to help you create your dream home. From the initial consultation to manufacturing and installation, our expert teams will take care of every detail.

For a free, no-obligation quote, you can call us on 01522 541294 or visit our Lincoln showroom in Pelham House, Canwick Road, open 6 days a week.

For a free online quote from the comfort of your home, click here, and start your journey to your dream home with Jackson Windows, your local manufacturer of high quality double glazing products.